.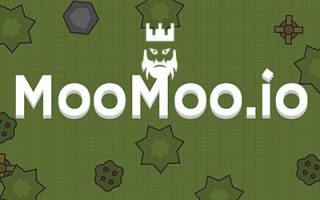 About Moomoo.io
Moomoo.io game is the first io game which is considered in the strategy genre. This game is one of the fantastic io games.
However you will need plenty of time to play moomoo.io if you want to rank number on the scoreboard. You will build a village in this game. And as you will gather sources by hitting them, you will earn age points. Each age offers you a different option. You can build a very customized village that will be able to resist all attacks on your opponents.
You need to protect your village from the enemy attacks. And the best way to do is improve yourself as fast as you can. Once you will get the sword item, you can go and seek enemies. When you find them pillage their villages. Although the game is considered in the strategy game, keep in mind that this is an io game which means that it has a simple logic and quite addictive.
In case you are looking for a game to spend some time then this game may be the best one that you can pick. It is possible to read some of the tips we have shared in the below. But the best tactic will be the one that you will develop in time by playing the game. There are moomoo.io mods as well in which you will be able to have different features. These are also known as moomoo.io hacks
How to Play?
You need to use your mouse in order to look around and have to use the arrow keys in order to control your character. In addition to this, you can use the numbers on your keyboard from 1 to 9 in order to make a selection when you completed an age. You can attack or gather sources by clicking or holding on the left button of your mouse.
Tips and Tricks
You need to collect as much as sources as you can when you start to play the game. It will be logical to harvest some bushes to earn some food for the possible attacks to heal yourself. Then you need to focus on rocks in order to gather stone to build walls. Each of your hit to any source will provide you a small experience. And they will fill the age bar at the bottom of the screen.
Try to surround yourself with walls and try to generate gold as quickly as you can. Be sure that the walls will cover all of the sources that you will need and instead of trying to kill other opponents, you should focus on building your village. It is hard to catch enemies in this game and therefore, you may want to escape from the fights in the early ages. As you will build your village and start to build your buildings, you will be more powerful and easily kill the opponents who are weaker than you.
In general, it will be good for you to seek your enemies after you reach to age 15. Until that time, focus on your village and keep in mind that this is a strategy game.
In case you are looking for mods, you do not have to download moomoo.io mod since ss god mod, we offer unblocked moomoo.io servers to our players which are also known as moomoo.io private servers. The games you will play on our servers offer all new features included into the game.
.
LOAD MORE