.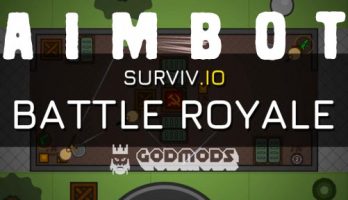 Surviv.io Aimbot, Aimhacks for Surviv.io download on godmods.com
Surviv.io Aimbot features:
This is a quick script written over a weekend that locally changed the Surviv.io JavaScript to behave differently. Some of the features are listed below.
No Ceilings
Never worry about someone hiding in a house again! This script replaces all of the ceiling images with transparent ones so you can see inside! 
Bush and Tree Outlines
Never worry about someone surprising you in a bush or tree, with this script only the outlines of trees and bushes will show, revealing any hiding players!
High Zoom Level
The script enables you to see extremely far with 1X zoom, and increases zoom inside buildings.
Bullet Time
The script slows local bullet movement, giving you the edge in a fight!
Extra Health
Rather than the standard 100, you get 200 health to use! 
Bugs and Issues
–Ammo is currently set at 999, despite actual ammo not being that.
Upcoming Features
–Debug Mode
–Adjustable Zoom
Surviv.io Aimbot allow you to access new features in Surviv.io game.
These mods allow players to access Surviv.io unblocked servers and they are downloadable to any browsers. Keep in mind that they are not the original servers but Surviv.io private servers. However you can be sure that these Surviv.io mods are as crowded as original servers.
.
How to Download & Install Surviv.io Aimbot
Install Tampermonkey Userscript Manager on your browser: Click here for tutorial
Download & Install Surviv.io Aimbot
Attention: None of the mods and this Surviv.io Aimbot published on our pages belong to our website. Due to the nature of the mods, they are developed by independent developers and published on the internet. As God Mods we compile the most popular mods on a single page for any io game. We do not accept any responsibility for any possible unwanted conditions due to the use or download of these mods. Users should download these at their own risks and we never store any part of these mods in our databases.