.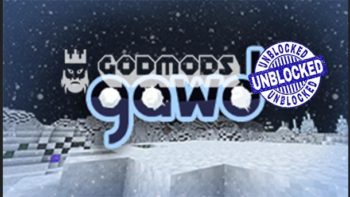 About Gawd.io
Gawd.io is an epic snowball fight happening in a voxel world!
Access to all Gawd.io hacks and unblocked Gawd.io mods on godmods.com. Free to Play Gawd.io on godmods!. We advise you to visit godmods.com from time to time, because new hacks and mods or aimbots might be released for unblocked Gawd.io.
HOW TO PLAY Gawd.io:
Throw snowballs (and other items) at other players to hit them and get the #1 leaderboard spot. Use your pickaxe to loot items and dig tunnels (you can also hit other players with it).
Gawd.io STRATEGY:
You will spawn with a pickaxe only. Your goal is to hide as quick as possible to prevent other players to spot and shoot snowballs at you. Then spot a loot box like snowballs, tnt or the cold staff and use your pickaxe to destroy the box and loot the item.
Now that you have something to shoot at other players, you're ready for the fight! The item that you looted with be in your inventory's shortcuts, use 1, 2, 3, 4, 5 to switch items.
Once you eliminate a player, you will loot all his inventory and become stronger.
If you have snowballs only (the weakest item), you better use your pickaxe to dig a base and hide and spot other players to shoot snowballs at them.
If you have TNT, try to understand the throwing curve, spot a player and shoot as nearby as him as you can, the explosion will hurt him/her.
If you find the cold staff, it's your lucky day! The staff is the most powerful item in the game. It shoots ice really quickly and in straight lines. Try to freeze as many players as you can to loot their items and become really powerful.
Gawd.io TIPS:
The cold staff projectiles have travel time, keep this in mind if you shoot from far awayYou can break/loot stone with the pickaxe, then shoot stone to build a base or hit other playersHold SPACE to climb moutains/stairs really fast and smoothlyHit the chest or head of the players to do more damageYou can climb ladder in some buildings (hold SPACE)Server will restart every few hours, when the map becomes too chaotic/destroyedFalling will NOT hurt you
W: move forwardS: move backwardA: strafe leftD: strafe rightSPACE: jumpLEFT-CLICK: shootRIGHT-CLICK: scopeTAB: open inventory1,2,3,4,5: switch item
COMING SOON
SoundsMore itemsMore mods
Important: This is just the first of several coming mods for Gawd.io. Please join our discord to give us a feedback on performance, mechanics, bugs etc.
.
.
LAST DOWNLOADS Gawd.io MODS