.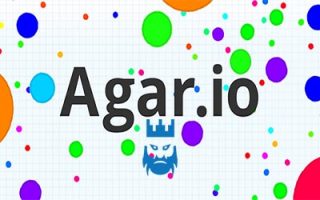 About Agar.io
Agar.io game is the pioneer of the io games which have simple logic but quite addictive.
The trend began with this unique game. You will be a ball and try to collect the orbs on the map. And you can capture other enemies when you get half of them inside of you. It is possible to divide your ball into multiple balls in order to catch your opponent located far away from you. Some people call it cell some people call it the ball. However whether it is you have a single purpose when you play agar.io. That goal is being number one on the scoreboard.
You can find the scoreboard on the right top of your screen. It only shows the top players on that map. There are also some spiked and fixed areas. In case you will touch one of these and greater than them, you will lose the game no matter you play in agar.io private servers or the original servers. Please note that all of the io games are online games which means that you will need an active connection. Since you will play against other players. However, it is still possible to play against bots which are artificial intelligence but only few of agar.io mods include this feature.
The game attracted quite a lot attention and played by millions of players. After a while, the second io game which is slither.io released and most of the players began to play the new game. Therefore, there was a serious decline in a number of the players playing agar.io after the release of slither.io.
How to Play?
You can use the arrow keys on your keyboard or mouse in order to provide direction to your ball. In addition to this, you can use the spacebar in order to split yourself to catch your opponents who are far away from you. There may be additional keys to use in various unblocked agar.io servers.
Tips and Tricks
You can hide behind the spiked and fixed balls in order to avoid greater opponents. However soon, you will not be able to hide behind them. When you grow enough to not be able to hide behind them you may want to roam on the map. And find other smaller balls to capture them. When you capture your enemy, you will receive all of his scores and it is possible to increase your score in a fast manner.
Please note that unlike other io games, it is not possible to beat the opponents who are greater than you. Therefore, you must avoid them as much as you can. You should always bear the risk of the split of your opponents. It may be logical to hang around the fixed and spiked balls since your enemies will hit them and lose the game while trying to eliminate you. But you can take the advantage of agar.io hacks in order to have supremacy over other opponents.
It will be logical to stay close to the walls when you are small. However when you grow enough, staying next to the walls may be a great disadvantage for you. Try not to go to the middle of the map before you reach to enough size. Well, how can you understand that you are in enough size? Try to rank among top 10 in order to go to the middle of the map where you are going to find plenty of opponents to swallow.
As god mod we are proud to offer you the best agar.io mod where you will not have to download agar.io mods to your browser by downloading additional software and you play it on our website.
.
LOAD MORE