.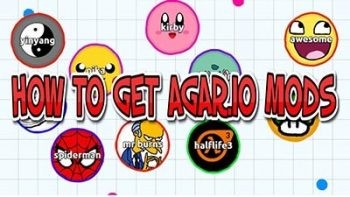 Auto respawn
Auto click hourly coin – clicks at set interval
Auto-save settings
Profiles – you can save 10 different profiles each with their own settings
Macros/shortcuts – see below for more info
Copy leaderboard player names – use this to impersonate and fight teamers
Reload server button
Join room action – choose between do nothing, spawn, or join spectator
Arrow movement keys – IJKL keys also work
Randomize movement – move randomly at set interval
Confirm dialog on logout and closing/reloading tab
Hide game promos
Added additional Google Adsense ads on the main panel
…more will be added on updates
Keyboard Shortcuts / Macros
~ – Toggle selectable leaderboard
1 - 0 – Copy leaderboard name #1 – #10
Arrow keys or IJKL – Alternate movement keys
E – Shoot mass continuously
R – Shoot mass 7 times
T – Split into 16 pieces
S – Stop movement
V – Skin panel
B – Shop panel
N – XP Boost panel
M – Mass Boost panel
, – Free coins panel
Agar.io auto respawn (evergreen) allow you to access new features in Agar.io game.
These mods allow players to access Agar.io unblocked servers and they are downloadable to any browsers. Keep in mind that they are not the original servers but Agar.io private servers. However you can be sure that these Agar.io mods are as crowded as original servers.
.
How to Download & Install Agar.io auto respawn (evergreen)
Install Tampermonkey Userscript Manager on your browser: Click here for tutorial
Download & Install Agar.io auto respawn (evergreen)
Attention: None of the mods and this Agar.io auto respawn (evergreen) published on our pages belong to our website. Due to the nature of the mods, they are developed by independent developers and published on the internet. As God Mods we compile the most popular mods on a single page for any io game. We do not accept any responsibility for any possible unwanted conditions due to the use or download of these mods. Users should download these at their own risks and we never store any part of these mods in our databases.