.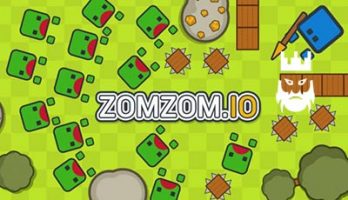 About Zomzom.io
Zomzom.io is a role-playing game where you will try to survive in the world of the game.
In case you like survival games then you can play Zomzom.io in your free times. The game has pixel graphics however it is really comprehensive. You can collect sources in order to craft good which can help you to survive more. When you craft a new thing, you will unlock other items to craft, so try to craft as many items as you can.
In case you want to explore new io games then you can check our io games list. You can visit our categories in order to find games starting with those letters or numbers. In addition to this, if you want to play io games with mods, we provide io games unblocked servers on our website.
How to Play?
You need to control your character with WASD keys. It is possible to perform actions with the left click of your mouse. In addition to this, you can use the numbers on your keyboard to choose items.
Tips and Tricks
You will be creating your own world in this game. You will control a weird character and have to collect sources in order to craft goods. Players can craft different materials from food to weapons. You need to also start a fire to see your around when it will be the night.
There are some creatures which can you attack during the night. This is why try to collect enough source to start a fire at first. Then focus on creating a weapon for yourself. You have a bag in which you can throw the materials you find.
godmods provide you Zomzom.io unblocked servers on this page. It is possible for you to download Zomzom.io mods from our page and start playing the Zomzom.io game with Zomzom.io hacks.
.
.
LAST DOWNLOADS Zomzom.io MODS