.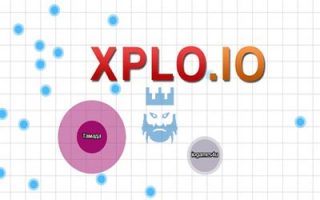 About Xplo.io
Xplo.io is a strategy game with low-quality graphics but you can be sure that it is quite fun to play.
In case you like to play online skill games then you can play Xplo.io in your free times. You are going to control a ball in this game. Like in most of the io games, you have to collect the orbs on the map in order to grow your size. However, it is also possible to throw grenades and lay mines in this game. Both of them provides you free kills in case you will get used to using them. These are the innovations included in this game.
You can find io games unblocked servers in our pages. Thus, you can download mods for different io games. You can also benefit from our io games list in order to explore new io games to play. You can also explore new games by checking the categories published on our website.
How to Play?
Players will control their ball with the help of your mouse. In addition to this, it is possible to throw a grenade with the spacebar key. Moreover, players can lay a mine by pressing the W key.
Tips and Tricks
You should always move in a way, which is hard to predict. In this way, you can easily avoid from the grenades you opponents will throw. In addition to this, you should pay attention to the black mines on the map.
Also you will be able to run away from these well then you can rank higher on the scoreboard. You should not try to focus on one player. It will be better in case you will throw a grenade to the crowded places for multiple kills.
As godmods we share Xplo.io unblocked servers with you on our page. It is possible for you to download Xplo.io mods and play the Xplo.io game with Xplo.io hacks.
.
.
LAST DOWNLOADS Xplo.io MODS