,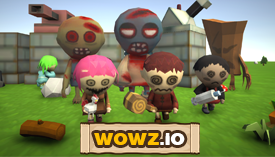 About Wowz.io
Wowz.io is an RPG survivalist game where you need to make it out in the wilderness against predators.
Your adventure for survival is about to start. First of all you need to find some food craft tools and build shelters. Wowz.io is one of the interesting io games. Access to all Wowz.io hacks and unblocked Wowz.io mods on godmods.com
Survival in the wilderness is a difficult challenge, where you have to collect different resources like granite and rope to create. Gather all the tools and weapons that may help you explore.Full of secrets and dangers! Use your survival skills to stay alive, avoid meeting predators. Various survival tools – Hunting with an axe. A useful survival tool such as an axe.
Now you have to fight and fight for your life if you want to survive!
-To build a house you will need to install a foundation first and then walls, doors.
-Hunting for food
-When animals die, you can keep food.
-Use resources you can craft weapons for hunting.
ControlLeft mouse click : ATKRight mouse click : eat / Use itemPress 1-5 : item begPress F: UsePress B: ฺBagPress G: UpgradePress WASD : MovePress  Button Day (Left upper corner): Battle Zombie
-Game Size 25Mb
.

LAST DOWNLOADS Wowz.io MODS