,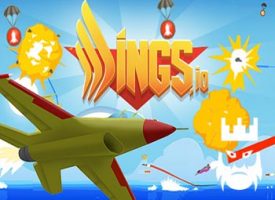 About Wings.io
Wings.io is one of the popular io games which takes place on the skies. You will fight with your enemies in the sky and try to collect score.
You can play Wings.io in your free times and will not feel any regret. It is one of the most popular io games and has millions of players in all around the world. Are you ready to control Santa Claus and fight with other Santa Clauses? If so, why you are waiting for more?
You can also play the game on private servers as well. We have shared the io games list with you in the right section of this article. Thus, you can download Wings.io unblocked private servers and access to various hacks while playing the game.
How to Play?
You need to use your mouse to provide direction to your character. Your character will be moving automatically and it is possible to shoot with the left click of your mouse.
Tips and Tricks
It is not logical to hang around on the edges of the map. You need a space to run away from your enemies when it is needed. You can fire your weapons without any limitation. Therefore, it may be a good idea to hold your finger on the fire button of your mouse.
Like most of the games, you will try to earn as much score as you can. This is why it may be better to stay close to your opponents. You can also collect the gifts falling from the sky to increase your score. However, it will be worth to note that you earn more score by eliminating players.
As godmods.com, we offer io games unblocked list to our visitors. You can download and install  Wings.io mods from this list and access to numerous Wings.io hacks.
.

ALL Wings.io MODS