,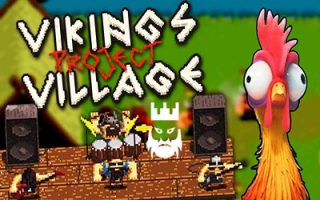 About Vikingsvillage.io
Vikingsvillage.io is an addictive fighting game where you are going to fight with other Vikings as a Viking.
Those who like addictive games can play Vikingsvillage.io in their free times. The game has pixel graphics and it offers you an adventure which is full of action. You are going to control a Viking which can level up as you kill your opponents. Players will be punching each other in order to kill. You also get items from the ground and throw them to other players in order to do more damage or stun them.
In addition to these, we also share io games unblocked servers on our page. It is possible for you to find them in the right section of the articles. Moreover, you can also explore new io games thanks to the io games list we have shared on our website. You can also visit our categories in order to find out more.
How to Play?
You are going to provide directions to your Viking with the help of your mouse. In addition to this, players can shoot each other with the left click of their mouse. You can also use your skill with the right click of the mouse.
Tips and Tricks
This is one of the fast-paced games that you can play. Also your goal is to eliminate the most Viking by beating them. In addition to this, you can benefit from barrels, chickens or chairs by throwing them to your opponents.
You are going to level up as you kill your opponents and unlock new skills. It will be good for you to read them and play according to them. In case you will be really careful, you can beat all of the players on the map and rule them.
As godmods we provide Vikingsvillage.io unblocked servers to our visitors. It is possible to download Vikingsvillage.io mods and play the Vikingsvillage.io game with different Vikingsvillage.io hacks.
.

LAST DOWNLOADS Vikingsvillage.io MODS