.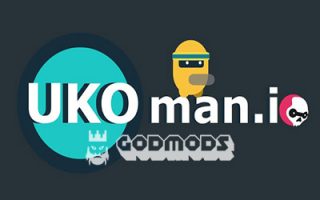 About Ukoman.io
Ukoman.io is shooter game where you are going to control a weird and green character and try to kill your opponents.
In case you like to play shooter games then you can play Ukoman.io in your free times. You are going to control a green and weird character which has a gun in his hands. There are limited platforms on the map and in case you will fall down, you will be eliminated. Players will have to start from the beginning when they are eliminated. As you can guess, your goal is to kill the most players on the map. In addition to these, there are also some large balls which can push you from the platforms. Keep in mind that you cannot damage to that balls and you have to avoid them.
In case you want to explore new io games then you can check our io games list in order to find more games. In addition to this, we also share io games unblocked servers on our pages. You can find the list of the mods on the right section of each article.
How to Play?
You are going to control your character with the help of the WASD keys on your keyboard. You will also aim with these keys. It is possible to shoot with the spacebar.
Tips and Tricks
As we mentioned before there are limited platforms on the map and there are also great balls which can push you down. You have to be really careful and try to stay on those platforms while also targeting your opponents to kill them.
You can benefit from the movement of the large balls and force your opponents to go through them. The ball may push them down and you can easily eliminate them. It is a great way to eliminate your enemies which are more talented than you.
As godmods we provide Ukoman.io mods to our visitors. If you want to play the Ukoman.io game with Ukoman.io hacks then you can start playing it on Ukoman.io unblocked servers.
.
.
LAST DOWNLOADS Ukoman.io MODS