,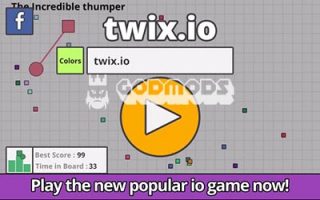 About Twix.io
Twix.io is an interesting game where you are going to control two different shapes at a time and try to eliminate your opponents.
In case you like to play challenging skill games then you can play Twix.io in your free times. You are going to control two different shapes which one of them is square and the other one is round. The square one will be your character and the round one will be your weapon. You have to hit your opponents with the ball you control in order to eliminate them and collect their orbs. It is possible to swing the ball and the size of your ball will increase as you keep killing your opponents.
We also share io games unblocked servers on our website. If you want to play the games with mods then you can find the list of the mods on the right section of each article. In addition to this, you can benefit from our io games list in case you want to explore new io games to play.
How to Play?
You are going to control your square with the help of the WASD keys. It is possible to control the ball with the help of your mouse.
Tips and Tricks
You need to collect the orbs on the map in your free times to earn score. In addition to this, players have to swing their ball and try to hit other players with their ball. When they do so, their opponents will be eliminated and leave their orbs on the map.
You will be doing the same thing all the time however as your ball gets bigger. This will be challenging for you to control it. This means that the game will get harder as you keep progressing in it and we believe that you can like this game a lot.
As godmods we offer Twix.io unblocked servers to our visitors. It is possible for you to download Twix.io mods and start playing the Twix.io game with Twix.io hacks.
.

LAST DOWNLOADS Twix.io MODS