,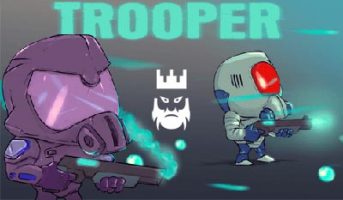 About Trooper.life
Trooper.life is an action game where you are going to control a robot and try to eliminate your opponents.
Those who like action games can play Trooper.life in their free times. The game takes place in the future where you are going to control a robot. You can find different weapons on the map and use them to kill your opponents. In addition to this, the map changes automatically on certain periods. Thus, it is one of the fun games that you can play to spend some good time.
If you are looking for new io games then you can check out our io games list we share on our website. Moreover, you can also check our categories in order to find games starting with that letter or number. Moreover, you can find the io games unblocked servers on our pages where you can download mods.
How to Play?
You can control the movements of your robot with the WASD keys. In addition to this, you can fire your weapon with the left click of your mouse. Players have to use their mouse to aim as well.
Tips and Tricks
There are various boxes and barrels which you can shoot and destroy. You can find different weapons and ammo from these barrels and boxed. Moreover, keep in mind that you need to use the objects on the map as a cover in order to not die too early.
You can also find weapons on the map. There are four different weapons that you can use. Keep in mind that you have limited ammo on the weapons you collect. Thus, it will be good for you to keep collecting ammo on the map to keep using the weapons.
As godmods we provide Trooper.life mods on our page. You can download these Trooper.life unblocked servers and play the Trooper Life game with Trooper.life hacks.
.

LAST DOWNLOADS Trooper.life MODS