,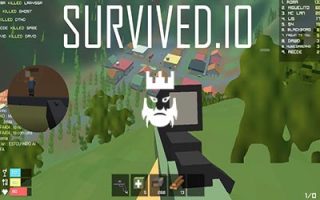 About Survived.io
Survived.io is a multiplayer game where you have to kill other players on the map to earn score.
Those who like to play multiplayer shooting games can play Survived.io in their free times. You are going to start with a gun in this game which has block-shaped pixel graphics. The map is quite large and it has many players. Players have to locate and then kill each other. You should always check your back in order to not be eliminated since your opponent will be following you all the way down.
We also provide io games unblocked servers on our website. Moreover, you can find the list of the mods on the right section of this article. In addition to this, you can check out our io games list in case you want to explore new io games to play in your free times.
How to Play?
You are going to provide directions to your character with the WASD keys. Players can check their around with the help of their mouse and shoot with the left click. It is possible to jump with the spacebar key and you can run with the shift key.
Tips and Tricks
This is a multiplayer game where every player plays alone. You have to eliminate your opponents on the map in order to earn score. But this is not easy as it sounds because you have to get closer to them to kill.
There are different weapons that you can use in order to eliminate other players. But although you are going to use a weapon and shoot your opponents, you still get close to them to aim well. You will usually miss when you fire from a distance.
As godmods we provide Survived.io unblocked servers on our page. You can download Survived.io mods from the right section of this article and play Survived.io game with Survived.io hacks.
.

LAST DOWNLOADS Survived.io MODS