,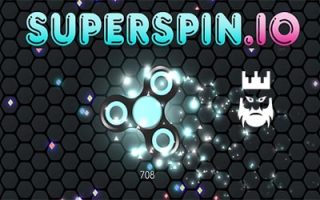 About Superspin.io
Superspin.io is a typical io game where you are going to play as a spinner and try to turn faster.
In case you want to play a skill game then you can play Superspin.io in your free times. You are going to control a spinner in this game. There are glowing orbs all around the map. When you collect them, you will earn score and as your score increases, you will try to turn faster. You have to hit to other players which turn slower than you in order to eliminate them. In case you will hit any of them which turns faster than you, you will be eliminated.
We share io games unblocked servers on godmods website. It is possible for you to find mods for the io games you like. Also, in case you want to explore new io games then you can benefit from our io games list. You can also check out our categories as well in order to find games starting with that numbers or letters.
How to Play?
You have to provide directions to your spinner with the help of your mouse. In addition to this, you can move faster by pressing the spacebar and holding your finger on it.
Tips and Tricks
You have to collect the glowing orbs in the map in order to increase your size as well as turn faster. Turning faster is the key factor in this game and it will allow you to eliminate other players. That is why you have to focus on collecting the orbs.
You can move faster in areas where there are many glowing orbs. You are going to lose some of your scores when you move faster but when you do it in such areas, you will collect the orbs faster. In this way, you can keep growing while moving faster on the map.
As godmods we offer you Superspin.io unblocked servers on our page. It is possible for you to download Superspin.io mods and play the Superspin.io game with various Superspin.io hacks.
.

LAST DOWNLOADS Superspin.io MODS