.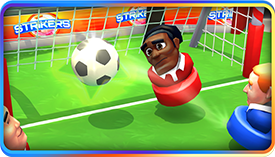 About Strikers.io
Strikers.io is a soccer io game where there's no rules!"Run, Kick and Score to Win …" Fast-paced, frantic, bouncy soccer game!
Take on other players around the world in this sports themed shooter. You are trapped in an eternal pentalty shot with the other player in a twisted game of one on one soccer. Strikers.io is one of the interesting io games. Access to all Strikers.io hacks and unblocked Strikers.io mods on godmods.com
No referrees, no yellow cards, no penalties. Just an endless bombardement of kicks and goals. Play as goalie and striker all wrapped up into one. Try to out smart, out play and out kick your oppoenent. Power up your kicks, time your shots, and stay on target.
You only have three minutes to score the most goals and it won't be easy. Stay strong, stay focused: become victiorious.
Instructi Movement:
WASD or Arrow Keys to MoveSpacebar to Quick KickHold and Release Spacebar to Power KickMatches are 3 minutes long
Victory conditions: Score the most goals in 3 minutes to win.
.
.
LAST DOWNLOADS Strikers.io MODS