.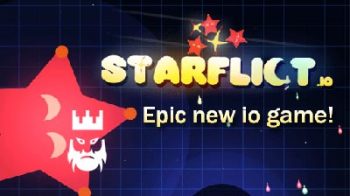 About Starflict.io
Starflict.io is a game where you will control a star and try to create your own solar system.
Those who like skill games can play Starflict.io in their free times. You are going to control a star in this game and try to collect stardusts. As you will collect more stardusts you will grow in size and new planets will join to your solar system.
It is possible for you to find many io games unblocked servers on our pages. Moreover you can find the mods and download them from the right section of each article. In addition to this, you can also benefit from our io games list we share on our website in order to explore new io games. We bet you will love most of them.
How to Play?
Players can control their stars with the help of their mouse. Your star will move in the direction where your mouse cursor shows. In addition to this, you can perform an attack with the left click of your mouse.
Tips and Tricks
You are a star which tries to find planets for its solar system. Moreover the more planets you will have the more damage you can do. This is why it will be better for you to collect as many planets as you can in order to be successful. You can see the number of stardusts you have to collect at the bottom of the screen.
Moreover, you can perform attacks to eliminate other stars. You will earn bonus score when you eliminate your opponents. Keep in mind that you will encounter meteors in the space. You should avoid these meteors in order to not lose the stardusts you collect.
As godmods we provide Starflict.io unblocked servers to our visitors. It is possible for you to download Starflict.io mods and play the Starflict.io game with Starflict.io hacks.
.
ALL Starflict.io MODS