.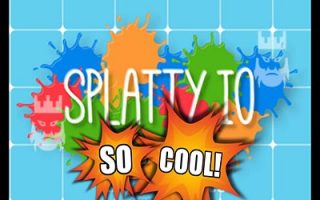 About Splatty.io
Splatty.io is a fun game where you are going to compete with other players on the map and try to paint them.
Those who are looking for fun games can play Splatty.io in their free times. You are going to control a drop in this game which can shoot dye. Your goal is to paint the other players and try to eliminate them. There are smaller drops on the map which you can paint them and let them work on behalf of you. In case your opponents will hit them, they will get paint which will make you easier to eliminate your opponents with these smaller drops.
We also share io games unblocked servers on our website. In case you are looking for mods for io games then you can find them in the right section of our articles. In addition to this, you can also explore new io games thanks to the io games list we share on our website. Moreover you can also check our categories as well.
How to Play?
You are going to provide directions to your drop with the help of your mouse. It is possible to shoot with the left click of the mouse and players can speed up with the spacebar.
Tips and Tricks
It will be better for you to roam in the map and try to collect as much smaller drops as you can. Also, these will facilitate the things for you and help you to eliminate your opponents easily. They are the key factor in this game.
You have to shoot your opponents and paint them in order to eliminate them. Keep in mind that you can only shoot a short distance. Your smaller drops will help you to keep your opponents away. Try not to get covered by paint too much to not lose the game.
As godmods we provide Splatty.io unblocked servers for Splatty.io game to our visitors. It is possible for you to access Splatty.io hacks by downloading the Splatty.io mods to your computer.
.
.
LAST DOWNLOADS Splatty.io MODS