,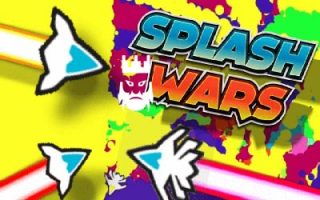 About SplashWars.io
SplashWars.io is an interesting game where you are going to play with planes and try to eliminate your opponents.
If you are looking for a fun game to play then you can play SplashWars.io in your free times. Players will be controlling planes in this game and try to eliminate each other for the score. You have to act quickly and provide the right directions to shoot your opponents. We believe that you are going to love this game a lot and be addicted to it like most of our team.
We also provide io games list on our website. In case you want to explore new io games then you can benefit from this list. Also, you can check out our categories in order to find games starting with that letter or number. You should also know that we share io games unblocked servers on our pages.
How to Play?
You have to use the arrow keys on your keyboard in order to provide directions to your plane. It is also possible to shoot with the spacebar.
Tips and Tricks
You are going to fly on the map and try to eliminate your opponents. You have to shoot your opponents in order to eliminate them. In addition to this, there are some bots on the map as well. You have to shoot them and make them with the same color with your plane.
There are also different power-ups on the map. You can collect as many as you can. When one of them will expire, the next power-up will be active. You have to eliminate the most opponents in order to earn the most score on the map.
As godmods we provide SplashWars.io mods on our page. You can download them and access SplashWars.io unblocked servers in order to play the SplashWars.io game with SplashWars.io hacks.
.

LAST DOWNLOADS SplashWars.io MODS