,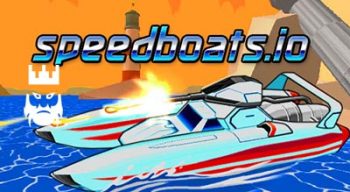 About Speedboats.io
Speedboats.io is an online game where you will compete with other players by trying to eliminate them by shooting.
Those who like fast-paced games can play Speedboats.io in their free times. You are going to control a speedboat in this game. However, this speedboat is able to shoot from in front of it. You need to target your enemies with the help of your mouse. Keep in mind that you can jump from the ramps to gain an advantage.
If you like io games then you can find many io games unblocked servers on our website. You can find the mods of the io games you like. In addition to this, you can also explore new io games thanks to the io games list we have shared with you.
How to Play?
You can provide direction to your speedboat with WASD keys. It is possible to shoot with the left click of the mouse. You can also switch to the full-screen mode with F key.
Tips and Tricks
This is a high-paced game where you have to move all the time. In case you will stay in one position then you will be eliminated by your opponents easily. Always moving will make you harder to shoot. Moreover, you will be playing in the water and there are few ramps you can use.
You can take the advantage of these ramps in order to make yourself hard to hit. In case you will hit rocks or other speedboats, you will receive a damage. In addition to this, it is advisable to shoot all the time. All you have to do is hold your finger on the mouse.
As godmods we provide Speedboats.io unblocked servers to our visitors. Thus, you can download Speedboats.io mods and play the Speedboats.io game with new Speedboats.io hacks.
.

LAST DOWNLOADS Speedboats.io MODS