,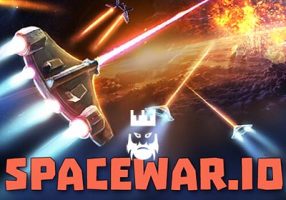 About Spacewar.io
Spacewar.io is a typical io game which takes place in space. You have to kill your opponents and collect sources.
In case you like space games then you can play Spacewar.io whenever you want. You will be controlling a spaceship and your goal is to eliminate your opponents. There is leveling concept in this game which allows you to upgrade your ship automatically when you level up. Your health and boost will be restored when you level up.
We share io games unblocked servers on our pages. You can find the mods for every io game on our website. Some of the io games do not have any mods yet but when developers will develop mods for these games, we are going to include them as well. You can also explore new io games thanks to the io games list we shared with you on our website.
How to Play?
Players have to provide direction to their ships with their mouse. You can shoot by clicking the left click of the mouse. Moreover, you can speed up by holding the spacebar.
Tips and Tricks
Every player will control a spaceship and try to eliminate each other. You can also shoot the meteoroids in order to find glowing orbs. These orbs will help you to level up. And when you level up, your ship will be upgraded to a new one. The bigger you are, the more damage you can give.
When you will be eliminated, you will start again. However this time, you will start one level lower than the level you have been eliminated. It is possible for you to check the health of your ship and boost amount from the left bottom of the screen.
As godmods we provide Spacewar.io mods to our visitors. You can find these Spacewar.io unblocked servers on our page and play the Spacewar.io game with Spacewar.io hacks.
.

LAST DOWNLOADS Spacewar.io MODS