,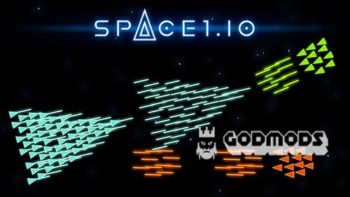 About Space1.io
Space1.io is a simple, but quality io game.
You must shoot at the luminescent spaceships of your opponents. Every destroyed spaceship adds one ship to your team. Access to all Space1.io hacks and unblocked Space1.io mods on godmods.com. Free to Play Space1.io on godmods!. We advise you to visit godmods.com from time to time, because new hacks and mods or aimbots might be released for unblocked Space1.io.
How to play
In the Space1 io you are competing with yourself. Of course, you also fight with other gamers, but your nick is saved on the game server, and, until you clear the cookies, it will hang there. Every time you enter the game and enter this nick, you will see your high score. Scores are given only for the destruction. Every destroyed unit of the enemy gives one score. Moreover, there are extra bonus scores for complete annihilation.
Every destroyed enemy's ship adds a ship to your team. As your fleet grows, the speed of movement and the speed of recharge slows down. Even the lasers become slower, and it is not a joke.
If all your ships are destroyed, the game is lost. When you respawn, a certain percent of your scores remains.
Controls
In the Space1 io your team is controlled by means of the mouse only
Tips and Tricks
If your team is very big, it is better to shoot directly into the enemy. While the enemy is trying to escape from the cloud of your shots, some units will be destroyed anyway.Beware of new gamers. They are immortal for some seconds and can hurt you a lot being invulnerable.
Play Space1.io with Unblocked Aimbot, Mods and Hacks features. Also You can download All Space1.io Aimbot, scripts, hacks and all mods on godmods.com
.

LAST DOWNLOADS Space1.io MODS