,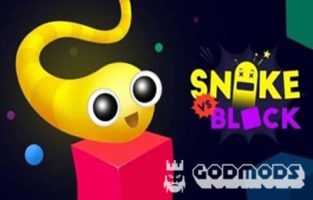 About SnakeBlock.io
SnakeBlock.io is one of the interesting io games.
Access to all SnakeBlock.io hacks and unblocked SnakeBlock.io mods on godmods.com. Free to Play SnakeBlock.io on godmods!. We advise you to visit godmods.com from time to time, because new hacks and mods or aimbots might be released for unblocked SnakeBlock.io.
SnakeBlock.io is a free-for-all io game where your goal is to grow into a gigantic serpent. The future is a grey grid crawling with vicious snakes made of light. In Snakeblock.io you become a slithering serpent made of lasers. Your mission is to grow large  by consuming units of energy which randomly spawn throughout the grid. Opposing players from around the world will also spawn as snakes within the grid. These people are not your friends. You are in direct competition with every other player. You all want to become the largest, and the longest snake possible. Even if that means murder. If you are sneaky enough you can destroy the opposing players by sidewinding around them and having them smash directly into your body. This is the only way to kill opposing players. If you were to try and dash into them head first, you would be destroyed.
Game Instructions / How to Play
Mouse: MoveLeft Mouse Button: Dash
.

LAST DOWNLOADS SnakeBlock.io MODS