,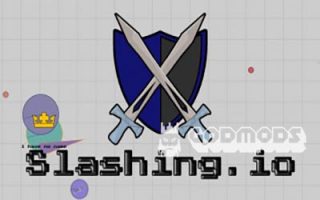 About Slashing.io
Slashing.io is a skill game where you are going to eliminate the other players by hitting them with your weapon.
Those who enjoy playing skill games can play Slashing.io in their free times. You are going to control a ball in this game. This ball has a shield and weapon in its hands. Players should touch with the tip of their weapons to other players in order to eliminate them. In addition to these, you should also collect the orbs on the map which will help you to level up. You are going to achieve new abilities as you level up. Moreover, you are going to find some power-ups on the map which will facilitate your job to rank higher on the scoreboard. Also, you should not neglect these power-ups.
We also share io games unblocked servers to our visitors. You can find the list of the mods on the right section of each io game article. Also, you can check out our io games list we have shared on our website in order to find out new io games to play.
How to Play?
You are going to provide directions to your ball with the help of your mouse. In addition to this, you can use the dash feature with the right or left click of your mouse.
Tips and Tricks
The level is important in all games with leveling concept. This is why you may want to give importance to collecting the orbs. They allow you to earn experience and improve the overall stats of your character.
You should also collect the power-ups you see on the map. These will provide you boost in many aspects which can help you to eliminate other players easily. We believe that you are going to have a great time in this game.
As godmods we offer Slashing.io unblocked servers to our visitors. It is possible for you to play the Slashing.io game with Slashing.io hacks by downloading Slashing.io mods to your browser.
.

LAST DOWNLOADS Slashing.io MODS