.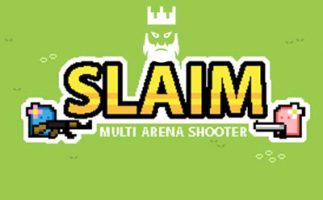 About Slaim.io
Slaim.io is a shooter game where you are going to control a small and weird character and try to kill your opponents.
Those who enjoy playing shooter games can play Slaim.io in their free times. This is one of the fastest io games with pixel graphics. You are going to control a weird character with a gun and try to eliminate all of your opponents. You can evolve by killing your opponents and collecting their DNA.
We as godmods offer you different io games unblocked servers to download. It is possible for you to find them on the right section of each article on their game page. In addition to this, you can also explore new io games to play thanks to the io games list we have shared on our website.
How to Play?
Players have to use their WASD keys in order to provide direction to their character. You can also shoot with the left click of your mouse by taking aim.
Tips and Tricks
This is one of the fast-paced io games on the internet. You will be thrown into a map with other players and you have to kill your opponents. You can respawn in five seconds after you are eliminated. Players need to be very careful in order to keep surviving.
Your enemies will leave DNA when they are eliminated. You have to collect these in order to evolve your character. There are different areas on the map where you can use them as a cover. Also, you need to spam your fire and move all the time in order to kill your enemies easily.
As godmods we offer Slaim.io mods to our visitors. If you want to play the Slaim.io game with Slaim.io hacks then all you need to do is play it on Slaim.io unblocked servers.
.
.
LAST DOWNLOADS Slaim.io MODS