,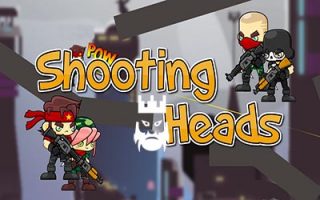 About Shooting Heads
Shooting Heads is a shooter game with graphics that are looking like cartoons and quite fun to play.
Those who like shooter games can play Shooting Heads in their free times. You are going to control a character in this game which has guns. Your goal is to eliminate your opponents on the map. Moreover it is possible to play the game in different modes such as deathmatch or one on one modes. We would like to note that the graphics of the game resembles the cartoons and this may look attractive to those who like such graphics in games.
In addition to this, we also share io games unblocked servers on our pages. It is possible for you to download the mods for any io games if they exist. You can find these mods in the right section of each article. Also, we share io games list on our website where you can explore new io games to play.
How to Play?
Players have to provide directions to their character with the A and D keys. It is possible to jump with the W key and you can switch weapons with Q key.
Tips and Tricks
You are going to play on a small map with platforms. Moreover you can only see a limited area but when you fall down, you can see a larger area. Players need to locate their enemies and then shoot them to eliminate them.
There are platforms on the map. Thus, it will be good for you to take the advantage of them in order to eliminate more players. Also each time you shoot your weapon, you will see a cartoon animation and you have one goal which is eliminating the most enemies on the map.
As godmods we offer Shooting Heads unblocked servers to our visitors. It is possible for you to download Shooting Heads mods and play the Shooting Heads game with Shooting Heads hacks.
.

LAST DOWNLOADS Shooting Heads MODS