,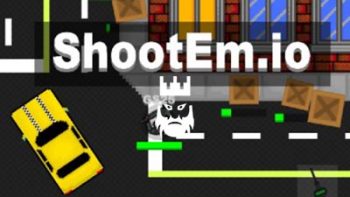 About ShootEm.io
ShootEm.io is a shooting game where you can also drive vehicles and wreck your enemies by driving through them.
If you like to play shooting games then you can play ShootEm.io in your free times. You are going to control an armed man. It is possible to drive a vehicle in this game and crash your opponents to kill them. You can also find new weapons by destroying the crates on the map. Your goal is to collect the most money.
In addition to this game, we also share io games unblocked servers on our pages. It is possible for you to download the mods for io games and play them with hacks. If you want to explore new io games to play then you can benefit from our io games list that we have shared on our website.
How to Play?
You need to move the WASD keys. It is possible to shoot with the left click of your mouse. Moreover, you can get in and out vehicles with the spacebar.
Tips and Tricks
You are going to earn money from any action you do such as destroying things around you, killing enemies and so on. Your money is your score and you have to eliminate all of the players on the map. You can also shoot the vehicles to do damage.
In case your vehicle explodes when you are in it, you will be eliminated. This is why get out of the vehicle before it explodes. You can find new weapons by shooting the crates. It may take some time to get used to the controls of the game but it will be totally worth it.
As godmods we provide ShootEm.io unblocked servers to our visitors. It is possible for you to download ShootEm.io mods and play the ShootEm.io game with ShootEm.io hacks.
.

LAST DOWNLOADS ShootEm.io MODS