.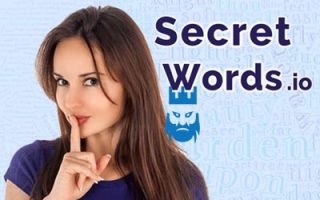 About Secretwords.io
Secretwords.io is a word guessing game where you are going to play together with other players.
Those who like word-guessing games can play Secretwords.io in their free times. One of the players will be given a word and want to describe it by typing. However as you can guess, it is not that much easy to describe the word as it sounds because there are some banned words. These words are the most common words that you can use in order to describe that word. It is quite fun to play with good players.
Please note that we share io games unblocked servers on our website. You can find these servers for every game we share on our website. In addition to this, we also share io games list on our website. In this way, you can explore new io games which you have never heard before.
How to Play?
You need to use your keyboard in order to type your guess or description to the relevant bar. In addition to this, you are going to use your mouse in order to make selections when you are going to tell the word.
Tips and Tricks
There is limited time for you to describe the word. This is why you want to be fast in order to tell it. Other players will be trying to guess the word you choose. In case they will guess the word, they are going to earn score.
You will have three options in order to choose the world. You can pick one of the cards and start to tell it. In case you will use the words which are banned on the list, it will not be shown to the other players, thus focus on describing it in the best way.
As godmods we provide Secretwords.io unblocked games to our visitors. You can download Secretwords.io mods from our page and start playing the Secretwords.io game with Secretwords.io hacks.
.
.
LAST DOWNLOADS Secretwords.io MODS