.
About S0urce.io
S0urce.io is a game where you are going to be a hacker and steal the bitcoins of other players.
If you like hacking stuff then you can play S0urce.io. You are going to be a hacker in this game and try to hack other people by typing codes on the screen. You do not have to have coding knowledge since the game will provide you the words you need to type. Moreover, you can also buy equipment in order to increase your passive income. Players can buy new bitcoin miners in order to increase their income.
It is fun to play the game and you can also play it on S0urce.io unblocked private servers. We share io games list on our pages where you can access mods. You can download these S0urce.io mods and access S0urce.io hacks while playing the game. You can find all the related information on the right section of this article.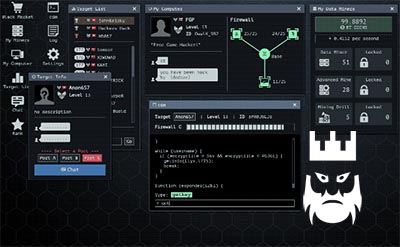 How to Play?
You will have your own dashboard when you start the game. All you need to do is click on them with your mouse. You may have to type from time to time.
Tips and Tricks
This is some kind of an endless game where you will have to improve yourself and income. You will buy bitcoin miners in order to passively earn money. In addition to this, you will have to hack other people in order to steal their bitcoins.
The more equipment you have the more money you can earn. This is why, it will be a good idea to invest in your equipment. In addition to this, you will have to improve your defense in order to prevent enemy hacks.
As godmods we share the io games unblocked list on our pages. Our visitors can access S0urce.io hacks and download S0urce.io mods from this list.
.
ALL S0urce.io MODS