,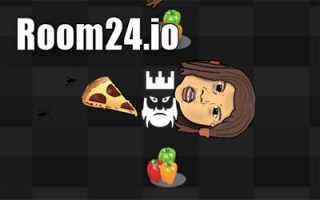 About Room24.io
Room24.io is a skill game where you are going to play in two teams as humans and cockroaches.
In case you like to play skill games then you can play Room24.io in your free times. You are going to be human or cockroach in this game. All of the players are playing on the same map where there are different goods and foods. Human side can spray pesticide to kill cockroaches while the cockroaches try to eat the foods and grow in size. This is quite fun game to play where you try to reach the highest score.
Moreover, godmods also shares io games list on its website. It is possible for you to learn more about new io games through this list. In addition to this, we also share io games unblocked servers on our pages. Thus, you can find these mods in the right section of each article and easily access io games hacks.
How to Play?
Players have to provide directions to their characters with the help of their mouse. Human side can spray with the left click of their mouse while the same button will allow cockroaches to move faster and avoid attacks.
Tips and Tricks
You have to play both of the sides in order to fully get the game. As a human, your goal is to spray pesticides to the players on the map. In this way, you can eliminate them but you should always be careful in order to not let them scare you.
In case you will play as a cockroach, you have to collect the foods on the map and avoid the attacks in order to grow your size. The more foods you will eat, the bigger you will grow in size. The game has a unique concept and you should try it.
As godmods we provide Room24.io mods on our page. It is possible for you to access Room24.io unblocked servers with these mods and play the Room24.io game with Room24.io hacks.
.

LAST DOWNLOADS Room24.io MODS