,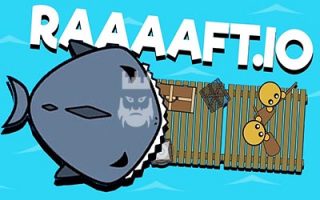 About Raaaaft.io
Raaaaft.io is an interesting survival game where you are going to try to survive in the ocean.
In case you like challenging survival games then you can play Raaaaft.io in your free times. Players are going to control a character which is trapped on a wood piece in the ocean. You have to row your boat in order to search for the goods which you can use. You have to pay attention to your health in order to keep surviving. Keep in mind that you can combine the goods that you find in order to make something more useful.
In case you want to explore new io games then you can check our io games list in order to find more games. In addition to this, we also share io games unblocked servers on our pages. You can find the list of the mods on the right section of each article and download them whenever you want.
How to Play?
You are going to make the selections with the help of the left click of your mouse. It is also possible to move your character with the help of the WASD keys.
Tips and Tricks
You can leave your boat with your character, however, this is not a good idea since you can be bait to fishes. In addition to this, you should always search for the good in the ocean. This is the key factor to survive in the game.
As you find new goods, you can create better equipment which can meet your hunger and thirst too. In case any of these two bars will come to end, you are going to die and you will have to start from the beginning.
As godmods, we provide Raaaaft.io unblocked servers to our visitors. It is possible for you to download Raaaaft.io mods and start playing the Raaaaft.io game with Raaaaft.io hacks.
.

LAST DOWNLOADS Raaaaft.io MODS