.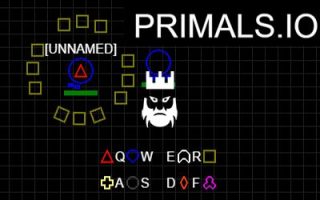 About Primals.io
Primals.io is a skill game where you are going to throw geometric shapes to damage your opponents.
Those who like skill games can play Primals.io in their free times. You are going to control a geometric shape in this game which can create smaller geometric shapes and throw them to your opponents. When you hit your opponents with these shapes you will give them certain damage. Your health will increase slowly when you do not receive any damage for a certain time.
Please note that we offer io games unblocked servers to our visitors. It is possible for you to download the mods of the io games where you can find them in the right section of the articles. Moreover, in case you want to explore new io games then you can check out our io games lists we share on our website.
How to Play?
You will use your mouse in order to move your character. You can shoot the geometric figures with the right click of your mouse. Players have to select the location they want to go and then click on the left click of their mouse. You can create geometric shapes with QWERASDF keys on your keyboard.
Tips and Tricks
You have to create a geometric shape around your character and then throw them to your opponents. Players must arrange the timing well in order to hit their opponents. Your goal is to reach the highest score on the map.
In order to increase your score, you have to eliminate as many players as you can. This is the only way to increase your score. Unlike most of the other io games, you will not collect anything.
As godmods we provide Primals.io unblocked servers to our visitors. It is possible for you to download Primals.io mods and play the Primals.io game with Primals.io hacks.
.
.
LAST DOWNLOADS Primals.io MODS