,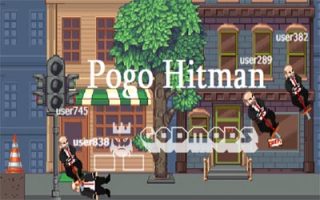 About Pogo Hitman
Pogo Hitman is a competitive game where you are going to control a hitman on the pogo.
In case you are willing to play some competitive games then you can play Pogo Hitman in your free times. Every player is a hitman in this game however these hitmen are quite weird. They will be jumping with the pogo all around the map. You have to hit your opponents fast with your pogo in order to eliminate them. It is not possible to fall down from your pogo, this is why you can play as you want. The real physics rules are not adopted in the game. And we believe that it is much funnier in this way. If you are ready to eliminate your opponents as a hitman, start playing now.
In the event that you want to explore new io games then you can check the io games list that we have shared on our website. In addition to this, you can download mods thanks to the io games unblocked servers we have shared. You can also visit the categories in order to find games starting with that letter.
How to Play?
You will be providing directions to your hitman with the help of your mouse. Your character will jump automatically with its pogo in the direction you are facing.
Tips and Tricks
There is a jump power concept in the game which allows you to jump higher or a lot more than usual. You need to arrange the angle of your pogo well in order to increase this jumping power to eliminate more players.
When you start playing the game you may want to jump right and left continuously in order to travel the map easily. In this way, you can find more opponents and kill more enemies. In case you will perform a combo, you will receive bonus score.
As godmods we provide Pogo Hitman mods to our visitors. In case you are willing to play Pogo Hitman game with Pogo Hitman hacks then you can start playing on Pogo Hitman unblocked servers.
.

LAST DOWNLOADS Pogo Hitman MODS