,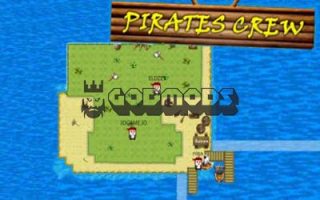 About Pirates Crew
Pirates Crew is a fun game where you are going to be a pirate and try to find members for your crew.
In case you like pirate games then you can play Pirates Crew in your free times and sail whenever you want. The game is still being developed and new features are going to be included soon such as the marketplace. You are going to control a pirate in this game. Players will start on an island and they have to buy a ship for themselves first in order to sail. Once you sail, you have to attack the objects you see on the ocean in order to earn money. It is possible for you to spend your money to buy better ships or new guns on your ships. You have to work with other players and create crews in order to create your kingdom on the ocean.
In addition to this game, we also provide io games unblocked servers on our pages. It is possible for you to find them on the right section of each io game article. In case you are looking for new io games then you can check out our io games list. You can also check our categories as well.
How to Play?
You have to use the WASD keys in order to move your pirate. Players will make all of their selections with the help of their mouse and your ship will move automatically on the ocean. It is possible to shoot with the left click of the mouse.
Tips and Tricks
In case you want to be successful in this game then you have to get in touch with other players. You can join advanced crews in order to earn money faster. Once you collect enough money, you can buy a better ship for yourself.
Be careful with enemy ships while you are sailing on the ocean. In case your ship will be destroyed you are going to lose all of your gold and have to start from the beginning. This game is quite fun to play and you should definitely try it.
As godmods we offer you Pirates Crew unblocked servers on our page. It is possible for you to download Pirates Crew mods and play the Pirates Crew game with Pirates Crew hacks for more fun.
.

LAST DOWNLOADS Pirates Crew MODS