,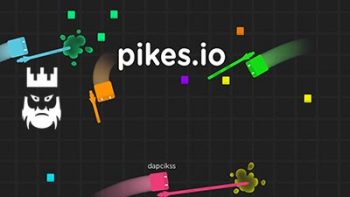 About Pikes.io
Pikes.io is a game where you will try to eliminate your opponents with the sword you hold.
You can play Pikes.io in your free times to have some good time. You will control a character which has a sword in his hands. The length of the sword increases as you kill your opponents. It is enough to touch your opponents with any part of your sword to kill them. It is one of the funniest io games that you can play on your computer, do not miss it.
Players can also play on Pikes.io unblocked private servers as well. We share io games list on our pages. You can find the Pikes.io mods from these lists. If you are looking for a great game to spend some good time, then you already found it. You can also find the mods in the right section of this article.
How to Play?
You need to use your mouse cursor to provide direction. Your character will move automatically. Moreover, you can use the right click of your mouse to speed up.
Tips and Tricks
You will have a sword in your hand. As you can guess, the size of the sword will increase as you kill your opponents. Like most of the games, your goal is to collect as much score as you can. Moreover, the best way to collect score is to kill your opponents.
There are foods on the map. You can collect these in order to fill your speed bar. It is important to keep your speed bar full. You will speed up as long as you will hold the right click of your mouse. Moreover, you can turn around yourself in order to kill nearby opponents.
As godmods we offer the io games unblocked servers to our visitors. It is possible to download Pikes.io mods and access Pikes.io hacks with these.
.

LAST DOWNLOADS Pikes.io MODS