,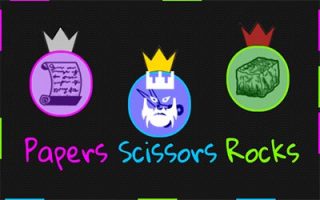 About Papers Scissors Rocks
Papers Scissors Rocks is the combination of a traditional game with the io concept which is quite fun to play.
Those who like to play traditional games with new concepts can play Papers Scissors Rocks whenever they want. In this game, there are three different teams. You will try to convert other players depending on your state. Players can earn score for each time they convert a player. Like most of the other io games, your goal is to collect the most score on the map.
We also share io games unblocked servers on our pages. If you are looking for a mod for the specific game then you can find the list of the mods on the right section of each article. In case you are willing to explore new io games to play then you can check out the io games list we have shared on our website.
How to Play?
Your character moves automatically and you need to provide directions to it with your mouse. Also it is also possible to speed up by pressing the spacebar.
Tips and Tricks
You are going to play a traditional game with the io concept. Moreover papers beat rocks, rocks beat scissors and scissors beat papers. This means that there are three different teams on the map and you need to touch your opponents with your character to convert them.
Each time you convert players, you will earn a score. You may be converted by other players. If so, you will have to chase the next team depending on your current character. This is quite fun Papers Scissors Rocks game to play and we believe you are going to have a good time.
As godmods we offer Papers Scissors Rocks unblocked servers to our visitors. It is possible for you to download Papers Scissors Rocks mods and play it with Papers Scissors Rocks hacks.
.

LAST DOWNLOADS Papers Scissors Rocks MODS