.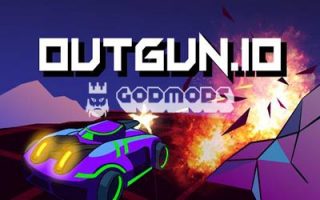 About Outgun.io
Outgun.io is a 3D game where you will be driving a car and shooting your opponents to eliminate them.
In case you like to play interesting sports games then you can play Outgun.io in your free times. This is a 3D game which we believe that you are going to love it. You will be driving a sports car in this game and try to shoot the other players in order to eliminate them. There are various platforms that you can use on the map. In addition to this, you should avoid hitting obstacles while driving in order to not receive any damage. It is possible to see the current health of your vehicle at the bottom of the screen.
In case you want to explore new io games then you can check our io games list in order to find more games. In addition to this, we also share io games unblocked servers on our pages. You can find the list of the mods on the right section of each article.
How to Play?
You are going to provide directions to your vehicle with the help of WASD keys. In addition to this, it is possible to fire with your vehicle by pressing the spacebar.
Tips and Tricks
Your main goal is to eliminate the other cars by shooting to them. However, this is not going to be as easy as it sounds because there are many different platforms on the map. You should both drive your vehicle as well as shoot your opponents.
Always have an eye on your current health which is shown at the bottom of the screen. You are going to lose the game in case you run out of your health. It is possible to recover your health bar by not taking damage and driving for a while.
As godmods we provide Outgun.io mods to our visitors. If you want to play the Outgun.io game with Outgun.io hacks then you can start playing it on Outgun.io unblocked servers.
.
.
LAST DOWNLOADS Outgun.io MODS