.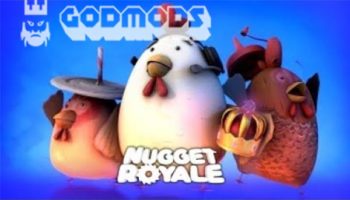 About NuggetRoyale.io
NuggetRoyale.io is an RPG io game from the creator of Splix.io!
In NuggetRoyale.io you play as a little chicken that fights for its poor life in a factory farm, battle royale style. Stuck in a chicken cage, getting launched by a conveyor belt, it's a sad sad world.In the game 80 players are stuck on top of a disk above a gruesome grinder. The disk is unbalanced and if someone falls off the disk they die and turn into a chicken nugget.The player has a few moves, walking, sprinting, jumping and dashing which can be used to survive the race. The final player on the disk wins the game and gets the highest score bonus.The number one player on the leaderboard gets to wear the crown, this makes him/her the ultimate nugget master, king of the chickens.
Access to all NuggetRoyale.io hacks and unblocked NuggetRoyale.io mods on godmods.com. Free to Play NuggetRoyale.io on godmods!. We advise you to visit godmods.com from time to time, because new hacks and mods or aimbots might be released for unblocked NuggetRoyale.io.
Score in the form of nuggets to unlock new hats, like a visor cap, ketchup cap, deep fry basket and a drinking lid. Collect all the hats!Players who eat the most corn grow the biggest and have an easier time pushing other chickens of the disk. When starting the game you are at the smallest size but you do have some jumping advantages.Eat corn, dash other players, stay on the highest point of the disk and have fun. Come play NuggetRoyale.io, it's free.
Controls:Walk with wsad or arrow keys.Space for jumpingHold space for dashing, this is used to push other chickens.Hold space in air for flying.Double tap move keys for sprint.
NuggetRoyale.io
.
.
LAST DOWNLOADS NuggetRoyale.io MODS