,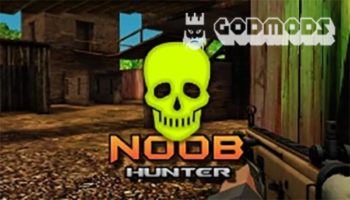 About Noobhunter.io
Noobhunter.io is an exciting multiplayer action game.
Access to all Noobhunter.io hacks and unblocked Noobhunter.io mods on godmods.com. Free to Play Noobhunter.io on godmods!. We advise you to visit godmods.com from time to time, because new hacks and mods or aimbots might be released for unblocked Noobhunter.io. This game has  amazing graphic, join host or creat one, chose your deadly weapon and begin hunt noobs from around the world.
There are two game modes
TEAM DEATHMATCH:
Two teams who fight each other. The team with the highest score wins the match!
FREE FOR ALL:
Fight against everyone else. And only the best player will win the match!
Over 9 different weapons available for devastating your enemies.5 amazing maps
HOW TO PLAY:
Move: WASD or Arrow keysJump: SPACEBARRun: Hold ShiftAim: Hold right mouse buttonShoot: Left mouse buttonSelect weapon: 1 or 2Next Weapon: QReloading weapon: RChat: EnterMenu: ESC or Tab
.

LAST DOWNLOADS Noobhunter.io MODS