.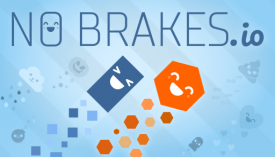 About NoBrakes.io
NoBrakes.io is an MMO racing io game where you have to avoid missiles and bombs.
NoBrakes.io is one of the interesting io games. Access to all NoBrakes.io hacks and unblocked NoBrakes.io mods on godmods.com. Upgrade your ride and go! A multiplayer racing game where you choose your smile.
Please send feedback: https://goo.gl/forms/0yTRw32P7lJQmv112.
How to Play NoBrakes.io
Arrow keys to steer.
Upgrades are triggered when you reach a checkpoint. Which one depends on your position! If you're first it's a bomb, in the middle a missile and if you're at the back catch up with a turbo boost!
NoBrakes.io Strategy
Perfect your race line, and avoid missiles and bombs!
.
.
LAST DOWNLOADS NoBrakes.io MODS