,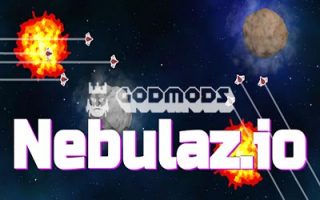 About Nebulaz.io
Nebulaz.io is a space game where you will try to destroy orbs and buy new ships to your fleet.
In case you like to play skill games then you can play Nebulaz.io in your free times. There are three different colored orbs on the map. Each of them is a source for you to buy new ships for your fleet. You can see the requirements of the new ships and the left bottom of the screen. Players can also see their current sources on the right top of the screen. You have to destroy the orbs you need in order to buy new ships. Your ships will be attacking automatically when you get close to your targets. Make sure that you always avoid from your enemies which have more ships than you.
We provide io games unblocked servers to our visitors. Moreover, players can download the mods of the right section of the articles. In addition to this, you can check our io games list too. In this way, you can explore new io games through our website and start playing them.
How to Play?
All you have to do is provide directions to your ships with the help of your mouse. You will also have to click on 1 key in order to buy new ship when it is ready. You can also go faster by pressing the spacebar key.
Tips and Tricks
In case you find an area which is full of orbs then you may want to stop your ship. You have to bring the cursor of your mouse on your ships to make them stop. They will automatically attack and gather the sources around you.
Make sure that you will avoid your opponents which have larger fleet then you. It may be a good idea to use your boost feature in order to avoid your enemies. It may take some time to get used to the game however it will only take few minutes.
As godmods we offer Nebulaz.io unblocked servers to our visitors. It is possible for you to download Nebulaz.io mods and start playing the Nebulaz.io game with Nebulaz.io hacks.
.

LAST DOWNLOADS Nebulaz.io MODS