,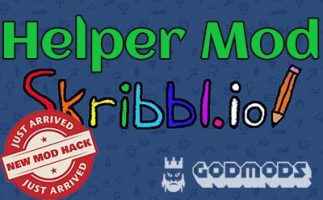 Features for Skribbl.io Helper: 
A helper for Skribbl.io!
The script learns the word each after each user finishes their turn and adds it to a wordlist using localStorage.
How to use / Features / Updates:
Press ALT to get the bot to list the possible words into the chat. Note that the bot cannot be seen by others!
Words are sorted alphabetically for easier reading.
Fixed bot matching word without spaces to a hint that has a space (instead of ____ _______ = cheeseburger, it will match ____ _______ = fire hydrant)
Bot Chat now floats on top of chat window instead of disappearing among other people's chat.
(new) Multiple Language support! Please read this Forum Post if you had version 0.12 installed before this update.
Please note that the script will not show all possible words at first, as it has to learn the words. Due to this, the script works best by playing the game often or adding the words to localStorage by typing localStorage.wordlist = localStorage.wordlist + ',"wordhere"' into the console, where the wordlist should look like "","word","word2","word3"and so on.
Note: This does NOT automatically try all possible words, only lists the possible words so that you, the player, can know which possible words can be used!
Skribbl.io Helper allow you to access new features in Skribbl.io game.
These mods allow players to access Skribbl.io unblocked servers and they are downloadable to any browsers. Keep in mind that they are not the original servers but Skribbl.io private servers. However you can be sure that these Skribbl.io mods are as crowded as original servers.
.
How to Download & Install Skribbl.io Helper
Install Tampermonkey Userscript Manager on your browser: Click here for tutorial
Download & Install Skribbl.io Helper
Attention: None of the mods and this Skribbl.io Helper published on our pages belong to our website. Due to the nature of the mods, they are developed by independent developers and published on the internet. As God Mods we compile the most popular mods on a single page for any io game. We do not accept any responsibility for any possible unwanted conditions due to the use or download of these mods. Users should download these at their own risks and we never store any part of these mods in our databases.
OTHER Skribbl.io MODS