.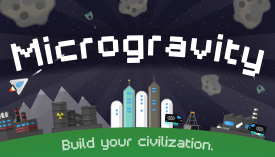 About Microgravity.io
Microgravity.io is a 2D shooter io game set in space in which you must create a conquering civilization.
Collect resources to build a civilization on a planet. Build defenses and take over other player's planets. Microgravity.io is one of the interesting io games. Access to all Microgravity.io hacks and unblocked Microgravity.io mods on godmods.com
How to Play Microgravity
Collect resources from asteroids and mines.Build cities to supply labor to man factories and mines.Build factories to collect unique weapons.Join alliances to conquer other planets.Watch out for planets' limited resources.
Microgravity Controls
Move: W, A, S, and D or arrow keysAim: MouseFire: Left click or SpaceBoost: ShiftChat: T or EnterSelect Weapon: Q and EDirectional Thrust: Right ClickDirectional Reverse: Middle ClickToggle Alliance: R
.
.
LAST DOWNLOADS Microgravity.io MODS