,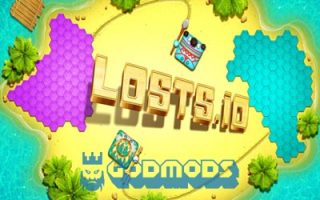 About Losts.io
Losts.io is an interesting skill game where you will try to claim lands on behalf of yourself.
Those who like to play challenging games can play Losts.io in their free times whenever they want. You are going to control a square character in this game and this character has a pen in its hands. The character will be moving automatically and draw a line on the map. You must control the character and let it come back to its own lands after walking a little bit. Once you come back, the area that you have traveled will be yours. However, it will be worth to note that your opponents can cross your lands and claim them for themselves as well. You must cross the line of your opponents in order to eliminate them.
We believe that you are going to love to play this game in your free times. We share io games unblocked servers on our pages. If you want to download mods then you can find these mods in the right section of each article. Also, you can check our io games list in case you are willing to explore new io games to play.
How to Play?
Your character will be moving automatically and you are going to provide directions to it with the help of your mouse.
Tips and Tricks
Your goal is to claim the most lands. It is possible to see the scoreboard from the right top of the screen. In case there are not that many enemies around your lands then you can try to claim more lands at a time.
But in case you worry about elimination then you can walk around your land in order to claim smaller areas. Although you are going to claim small lands, you will be safe all the time. It is possible to turn back to your lands and prevent any unwanted situations.
As godmods we provide Losts.io unblocked servers to our visitors. You can download Losts.io mods from our page and start playing the Losts.io game with Losts.io hacks.
.

LAST DOWNLOADS Losts.io MODS