,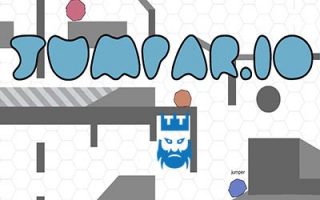 About Jumpar.io
Jumpar.io is a jumping game where you need to jump on your enemies to destroy them and earn score.
In case you like skill games then you can play Jumpar.io in your free times. You are going to control a character which can jump in this game. Your goal is to jump on your enemies from a distance to eliminate them. If you will jump next to them, you are not going to do any damage to them. As most of the io games, your goal is to collect the most score on the map. We believe that you can have a good time in this game.
We also share io games unblocked servers to our visitors. You can find the list of the mods on the right section of each io game article. Also, you can check out our io games list we have shared on our website in order to find out new io games to play.
How to Play?
All you need to use is the WASD keys in order to control your character. You can jump with the W key or spacebar.
Tips and Tricks
The map of the game is designed in a way to perform many actions with your character. You may need to jump all the time. In addition to this, you need to jump on your opponents to eliminate them.
However, it will be worth to note that you have to jump from a distance in order to eliminate your opponents. Otherwise, you will not do any damage. In fact, you can still have fun without eliminating your opponents because the game allows you to perform many actions.
As godmods we offer Jumpar.io mods to our visitors. It is possible for you to play the Jumpar.io game with Jumpar.io hacks by starting to play on Jumpar.io unblocked servers.
.

LAST DOWNLOADS Jumpar.io MODS