,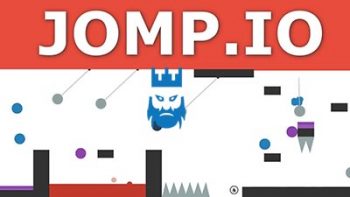 About Jomp.io
Jomp.io is a highly addictive and challenging io game where you are going to control a ball that jumps automatically.
In case you like to play challenging games then you can play Jomp.io in your free times. It will be worth to note that this game is highly addictive. You need to progress in the game as much as you can in order to earn score. However, this will not be an easy task.
In addition to this game, we also provide io games unblocked servers on our pages. It is possible for you to find them on the right section of each io game article. In case you are looking for new io games then you can check out our io games list. You can also check our categories as well.
How to Play?
All you need to do is using your mouse in order to provide directions to your ball. Your ball jumps automatically.
Tips and Tricks
This is one of the most challenging games that you can play as an io game. In this game, your ball jumps automatically and you need to provide directions to your ball with the help of your mouse. There are many obstacles that you need to avoid in order to not lose the game. Whenever you will touch one of them the game will be over.
There will be your opponents on the map as well. It is possible to bounce more by hitting to their balls. This is why you need to be careful to not be eliminated easily. In general, there is not competition concept but it is still possible to eliminate your opponents by pushing them into traps and obstacles.
As godmods we provide Jomp.io unblocked servers to our visitors. Thus, it will be possible for you to download Jomp.io mods and play the Jomp.io game with Jomp.io hacks.
.

LAST DOWNLOADS Jomp.io MODS