.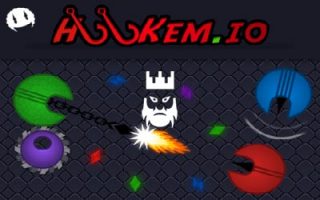 About Hookem.io
Hookem.io is a skill game where there are 4 different classes and you need to eliminate your opponents for the score.
Those who like skill games can play Hookem.io in their free times. You need to send your hook and grab your opponent in order to kill them. There are four different classes to choose from and each of these classes has their special abilities. We highly recommend you to check the tutorial to learn these abilities for each level.
We provide io games unblocked servers to our visitors. Thus it is possible for you to find the list of the mods in the right section of each io article. In addition to this, we also share io games list on our website where you can find out new io games to play in your free times.
How to Play?
You will provide directions to your character with your mouse. Also you can send your hook with the Q key or the left click of your mouse. Players can activate their shields with W key. You can also use your special ability with E key.
Tips and Tricks
There are four different classes in the game and four different orbs to collect on the map. You will choose your class at the beginning of the game but it is possible to switch it for 10 class score. Moreover players can collect these scores from the orbs with the same colors.
Your special abilities will cost you 10 score. This is why it is really important for you to collect the orbs on the map. You have to send your hook to your opponent and ensure the bond. In this way, you can eliminate your opponents.
As godmods we provide Hookem.io mods to our visitors. In case you want to play the Hookem.io game with Hookem.io hacks then all you need to do is play it on Hookem.io unblocked servers.
.
.
LAST DOWNLOADS Hookem.io MODS