,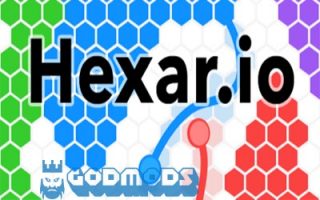 About Hexar.io
Hexar.io is a zoning game where you have to claim lands for yourself and try to eliminate the other players you encounter.
In case you like to play challenging skill games then you can play Hexar.io in your free times. You are going to control a hexagon object and try to claim lands on behalf of you. You will be controlling this object and try to travel on the map. Once you travel and come back to your land, you are going to claim that land for yourself. Your opponents will be doing the same in order to increase their score. You should avoid other players crossing your line before you reach back to your lands. If they will do this, you will be eliminated and have to start from the beginning.
In addition to these, we also share io games unblocked servers on our pages. If you want to download mods, you can find the list of the mods in the right section of each article. We also shared io games list on our website and it is a great source for those who are looking for a way to explore new io games to play.
How to Play?
You have to use your mouse in order to provide directions to your object. This is the only controls you need to use while playing this great game.
Tips and Tricks
It will be a good idea to start big at the beginning of the game. Since you have just begun to play the game, you do not have too many things to lose. This is why try to claim more lands at a time in order to increase your score quickly.
Once you reach enough size where you cannot risk your gameplay, you can start claiming small lands. You should always be careful while playing this game since other players can easily eliminate you. Keep in mind that you can claim other players' lands.
As godmods we provide Hexar.io mods to our visitors. In case you want to play the Hexar.io game with Hexar.io hacks then all you need to do is play it on Hexar.io unblocked servers.
.

LAST DOWNLOADS Hexar.io MODS