.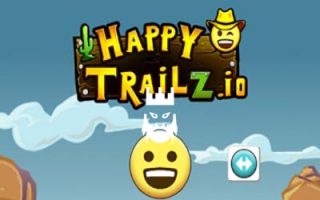 About Happytrailz.io
Happytrailz.io is a skill game where you are going to control an emoji and try to claim lands for yourself on the map.
.If you enjoy playing skill games then you can play Happytrailz.io in your free times. You are going to control an emoji in this game which travels on the map. Your goal is to travel on the map and return to your lands in order to claim the area you have traveled. Make sure that your opponents will not cross your line while you are traveling. If they do so, you will be eliminated and have to start from the beginning.
You can also find other io games unblocked servers on our page. Thus you can play these games with hacks developed by independent developers. In addition to this, in case you want to explore new io games then you are in the right place. You can check out our io games list in order to find more about the new games.
How to Play?
You can swipe with the help of your mouse in order to turn. Or you can use the WASD keys on your keyboard in order to provide directions to your emoji.
Tips and Tricks
Your goal is to claim lands on behalf of yourself in this game. In order to do that, you have to travel the certain distance on the map and turn back to your lands. When you do so, the inner part of the area you have traveled will be yours.
You can also eliminate other players by hitting their line they leave behind. In case they are out of their lands and you hit them, they will be eliminated. As you can guess, your goal is to claim the most land and you can also claim other players' lands as well.
As godmods we provide Happytrailz.io mods to our visitors. If you want to play Happytrailz.io game with Happytrailz.io hacks then you can give a try to these Happytrailz.io unblocked servers.
.
.
LAST DOWNLOADS Happytrailz.io MODS