,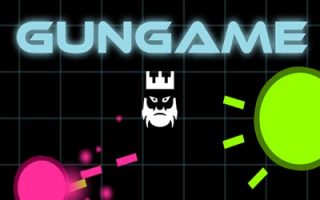 About Gungame.io
Gungame.io is a shooting game which has its own unique concept and we believe that it is really fun.
Those who like io and shooter games can play Gungame.io with fun. This is a quite addictive game where you are going to control a ball that can fire. You can swap between your weapons and try to eliminate your opponents for the score. Players also need to collect the glowing orbs on the map for the bullet as well as to grow in size.
You can also check our other io games unblocked servers. It will be enough for you to visit the io game page in order to find the list of the mods for that game. In case you want to explore new io games then you can also check our io games list too.
How to Play?
You have to provide direction to your character with the help of the WASD keys. It is possible to shoot with the left click of your mouse. Players can also swap their weapons by clicking the E key.
Tips and Tricks
You do not have unlimited ammo in this game. You have to collect the glowing orbs on the map in order to have ammo. Players will also grow in size when they collect them and their health will increase as well. Each weapon has different ammo usage.
You will get smaller when you spend your bullets but when you hit your enemies, you will earn bigger orbs which will provide more bullets to you. There are also some bots on the map as well. You can shoot them and farm them in order to grow faster than your opponents.
As godmods we provide Gungame.io unblocked servers to our visitors. It is possible for you to download Gungame.io mods and play the Gungame.io game with Gungame.io hacks.
.

LAST DOWNLOADS Gungame.io MODS